Savery's machine (patented in 1698) consisted of a boiler, a closed, water-filled reservoir, and a series of valves. Steam was introduced into the reservoir, and the pressure of the steam forced the water out through a one-way outlet valve until the vessel was empty. Water was then sprayed over the surface of the pressure cooker to condense the steam and create a vacuum capable of drawing up more water through a valve below. Unfortunately the vacuum created was not perfect, and so water could only be lifted to a limited height.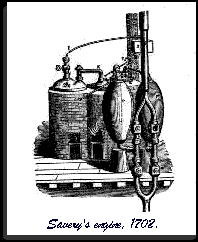 OK, all this is extremely interesting, but how to explain the marked development of the steam engine in Great Britain, and this curious passion the English have for the pressure-cooker. Hum, sorry, steam engines. Britain, unlike its prime European rival, France, was a small, compact island. Except in northern Scotland, it had no major forests or mountains to disrupt or impede its internal communications.The country possessed a range of natural ports facing the Atlantic, plenty of coastal shipping, and a good system of internal waterways.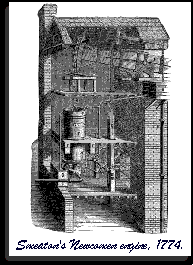 By the 1760s there were already 1,000 miles of inland canals in Britain; over the next 70 years 3,000 more miles of canals were constructed. Britain was also richly endowed with coal and iron ore, and these minerals were often located close together in counties such as Staffordshire, Northumberland, Lancashire, and Yorkshire.